---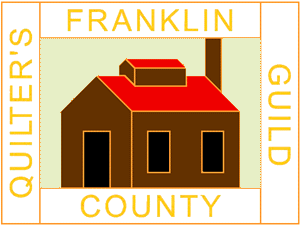 Franklin County Quilter's Guild
June 21, 2006 Minutes
WELCOME
44 members and 2 guests present.

GUILD HISTORY
In June 1994, the guild held the 1st Tea Cup Auction.

SECRETARY'S REPORT
Carol Stanley made a motion to accept; Shireen Melton seconded. Motion passed.

TREASURER'S REPORT
Diane Forey made a motion to accept; Lorraine Pike seconded. Motion passed.

OLD BUSINESS
Slate of officers was presented for vote:
** President Sharon Perry
** Vice President Bonnie Evans
** Secretary Rose Rixon
** Treasurer Deb Dusablon
** Programs Shireen Melton
** Project Coordinators Gail Darling
Marilynn Jessiman
** Membership Susie Perry
** State Guild Rep Sharon Perry
** Quilt Show Committee
Chair Lorraine Pike
Silent Auction Nancy Orcutt & Diane Forey
Vendors Quiche Perry
Demos Lorraine Pike
Raffle Quilt Quiche Perry
Raffle Tickets Beth Fancher
** 2007 Charity Quilt Mary Ellen Therrien
** Family Center Joyce Koss
** Home Health Alyce Bushey
** Ronald McDonald Denise Chase
** Purple Heart Sally McIntyre

Marilynn Jessiman will be hosting the July Quilting Bee in Bakersfield July 29-30th.

Sharon Perry presented the pins to us. She proposed that each member receive one free, reserve 50 for future members, and sell additional pins for $5.00. Shireen Melton made a motion to accept; Bonnie Evans seconded. Motion passed.

Bonnie Evans agreed to take the "Orphan Block Box" home and go through it.

Lisa Sousa gave a demo on her Flag Kits for sale.

NEW BUSINESS

Bonnie Evans proposed a "Breast Cancer Quilt Day" to be held September 30th. It is to be a quilting day nationally, where quilts are assembled with Breast Cancer fabric and auctioned off on E-Bay. Bonnie suggested we make them and give them out to local breast cancer patients and survivors. She suggested the guild buy the fabric for the tops, members provide their own backing and batting, and they can present them to people they know who have had breast cancer. Marilyn Jessiman made the motion to accept; Pam Jedlicka seconded. Motion passed. Bonnie Evans volunteered to put the kits together, and contact a place to meet to construct the quilts. Martha Dalton made a motion to use the proceeds of the tea cup auction to start the purchase of the breast cancer fabric; Marilyn Jessiman seconded. Motion passed.

Announcements were made concerning the Vermont Quilt Festival and August trunk show with Deb Tucker hosted by the Common Threads Quilt Guild.

Raffle Blocks were won by Gisele Nolan.
Monthly drawings were won by Gail Darling & Kathy Rockliss.

Sharon Perry asked for a big round of applause for the wonderful support of all the officers for the past year. The membership also gave Sharon a "huge thank you" for a great year.

There will be an August meeting of the Executive Board to plan for the coming year.

Meeting was adjourned to enjoy a delicious pot luck and tea cup auction.

Respectfully submitted,
Bonnie Evans, Secretary.