---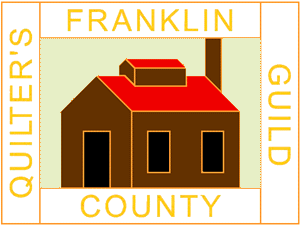 Franklin County Quilter's Guild
December 7, 2005 Minutes
President Sharon Perry welcomed 46 members and guests.

Our Guild History: December 1993- we first played Quilto.

Secretary's Report was approved as read. Motion to accept was made by Phyllis Fletcher; seconded by Joan Jettie. Motion passed.

Treasurer's Report was read by Deb Dusablon. Motion to accept was made by Nancy Orcutt; seconded by Denise Chase.

OLD BUSINESS
* Raffle Quilt is being quilted by NH quilter.
* Raffle Tickets were available.
* Ann Pit reported we have a Pfaff sewing machine donated by Sew Many Treasures for our 2nd place prize in our raffle.
* We received a letter from Mayor Deslaurier that he may not be seeking another term, therefore will not be to pick the Mayor's Award at the Quilt Show.
* Denise Chase reported that she has secured the Franklin Bank window for our quilt displays prior to the Show. It will be available March 20-31 2006.
* Marge Taylor & Joan Jettie showed us the completed top of the 2006 Charity Quilt, and we will be taking bids for the machine quilting.
* Susan Bruce, Lorraine Pike, Quiche Perry & Sharon Perry will form a committee to work with the Pin Peddler. The committee will present a pin design for guild members to approve. No pins will be purchased until voted and approved by guild membership.
* No news to report on the Hurricane Katrina Adoption of a Guild.

NEW BUSINESS
* Denise Christiansen volunteered to work on finding a speaker for the 2007 year.
* The Guild decided they would like to participate in regular Quilting Bees, similar to the one held in November. We will tentatively plan on having our next one at the Home Health office on January 21 & 22 2006.
* Elaine Leduc informed us about a new shop in Johnson, called the Quilted Lily.

Quiche Perry won the raffle blocks.

Gina Meigs, Janet McCarthy, Mary Meade, Marge Taylor, Denise Chase, Joan Jettie, and Susie Perry won the monthly drawings.

Our program for January will be a demo by Gayle Schliemann, owner of Strawberry & Rhubarb.

Our business meeting was adjourned.

We had a wonderful Show N Tell as usual.

We played Quilto and enjoyed the terrific goodies from CottonWood Quilts.